Nvidia RTX 3090 Founders Edition
The Nvidia GeForce RTX 3090 Founders Edition has climbed to the top of our GPU benchmarks rankings, but where it ranks among some of the world's best graphics cards is a more difficult question to answer. While the Nvidia GeForce RTX 3080 retained the RTX 20-series' previous pricing system, retaining the RTX 2080 Super at $699, the RTX 3090 keeps the RTX 2080 Ti's $1200 launch price and increases this by $300. However, there is an additional viewpoint to consider the Nvidia GeForce RTX 3090 can be used to replace the $2,500 Titan RTX, in which case it is a faster card that costs $1,000 less. In any way, if you want to buy Nvidia's new halo card, you'll need some significant bucks.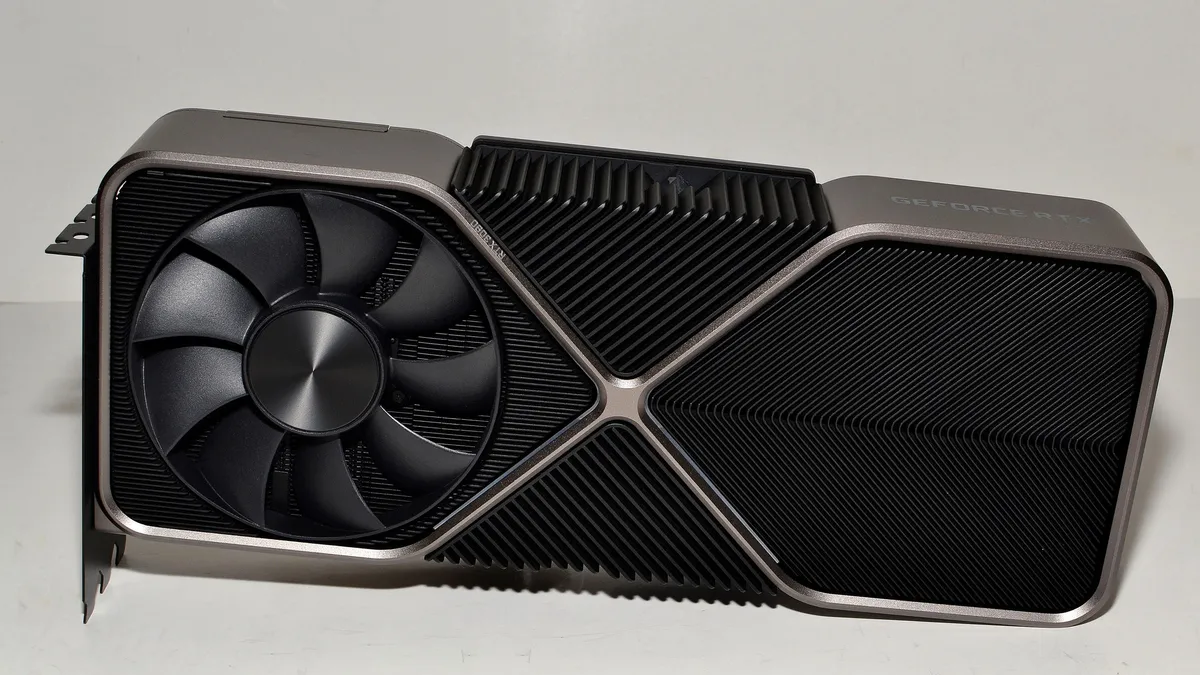 The Nvidia GeForce RTX 3090's brief review is basically how much you'd expect. Depending on specs alone, this is around 20% faster than the Nvidia RTX 3080, with more than twice the memory. The extra VRAM doesn't make a significant difference across most games but if you're running at 8K (maybe 5K), it can be beneficial for some professional workloads. To get the most out of the Nvidia RTX 3090, you'll need a capable CPU. This is a GPU intended for 4K ultra gaming, and it's 12% faster than the RTX 3080 at those settings. With 1440p ultra, the RTX 3090 is only 8% faster than the RTX 3080. If you are using 1080p? Seriously, don't worry.
You can see our review and benchmark of the Nvidia RTX 3090 here.
You can buy Nvidia RTX 3090 from here.
Nvidia GPU Specifications
| Graphics Card | RTX 3090 FE | RTX 3080 FE | Titan RTX | RTX 2080 Ti FE |
| --- | --- | --- | --- | --- |
| Architecture | GA102 | GA102 | TU102 | TU102 |
| Process Technology | Samsung 8N | Samsung 8N | TSMC 12FFN | TSMC 12FFN |
| Transistors (Billion) | 28.3 | 28.3 | 18.6 | 18.6 |
| Die size (mm^2) | 628.4 | 628.4 | 754 | 754 |
| SMs | 82 | 68 | 72 | 68 |
| GPU Cores (FP32) | 10496 | 8704 | 4608 | 4352 |
| GPU Cores (INT32) | 5248 | 4352 | 4608 | 4352 |
| Tensor Cores | 328 | 272 | 576 | 544 |
| RT Cores | 82 | 68 | 72 | 68 |
| Base Clock (MHz) | 1395 | 1440 | 1350 | 1515 |
| Boost Clock (MHz) | 1695 | 1710 | 1770 | 1635 |
| VRAM Speed (Gbps) | 19.5 | 19 | 14 | 14 |
| VRAM (GB) | 24 | 10 | 24 | 11 |
| VRAM Bus Width | 384 | 320 | 384 | 352 |
| ROPs | 112 | 96 | 96 | 88 |
| TMUs | 328 | 272 | 288 | 272 |
| TFLOPS FP32 | 35.6 | 29.8 | 16.3 | 14.2 |
| TOPS INT32 | 17.8 | 14.9 | 16.3 | 14.2 |
| Tensor TFLOPS FP16 (Sparsity) | 142 (285) | 119 (238) | 130 | 114 |
| RT TFLOPS | 69.5 | 58.1 | 49.2 | 45.7 |
| Bandwidth (GBps) | 936 | 760 | 672 | 616 |
| TDP (watts) | 350 | 320 | 285 | 260 |
| Launch Date | September 2020 | September 2020 | December 2018 | September 2018 |
| Launch Price | $1,499 | $699 | $2,499 | $1,199 |